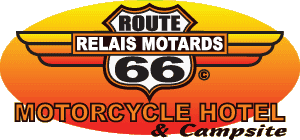 Biker friendly b&b in France
"Welcome to Route 66 Hotel "
Please note;
Please email us to make a booking & we will be here to welcome you.
If we do not know you are coming we may be out on a ride out,
or we may be full.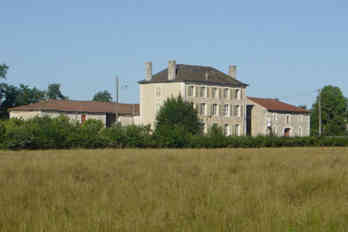 .

.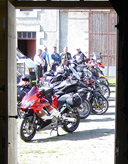 .

.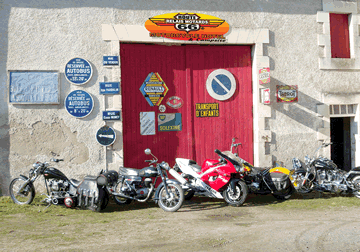 107 Avenue de la Liberation, 87320, Bussiere Poitevine, France.
Telephone Harry on 0033 630117433

click here to email; harry@route66hotel.com
......................................................................................

.........
Join us on

.........

The warm, fun and friendly hotel for you and your motorcycle. We have a passion for motorcycling which has made Route 66 Hotel a continuing success over the last 10 years. We have indoor lock up parking for your bike and our courtyard is also locked at night so that you can have fun without worrying about your bikes safety.
Individual travellers or large groups are equally welcome, We have double, twin or single bedrooms, decorated in a warm and homely style, and our top of the range bedrooms include full en-suite facilities. let us know your requirements by telephone or email and we can book you in.
Please note that although we welcome clients with Physical Disabilities, our hotel was built in 1883 and does have a winding staircase. Therefore could clients with Physical Disabilities please contact us in advance to discuss possible problems in accessing our bedrooms.
Please order dinners in advance so that dinner will be ready when you get here and we know how many to cook for in advance. In the evening our fully licensed bar provides a welcome retreat from touring the wonderful French countryside. Eat and drink with like minded people in our bar, or sit outside under a heaven filled with stars. Warm summer evenings in France are deliciously addictive. Chill out or plan the next days ride out, Play pool, relax and lap up our huge collection of music.
The region provides fantastic roads for a good day out, and we have numerous planned routes to enable you to fully appreciate this magnificent part of France. Explore by yourself or I can lead the way. We make no additional charges for our routes or ride outs cos we like a run out as much as anyone else. (unfortunately only if my time allows it)
There are numerous other activities in the region if you wish to get away from the bike for a while. Canoeing, Horse riding, Fishing, Swimming in the beautiful river Gartempte. explore the world famous Futuroscope. - or just lie in the sun and relax.
Close to us is the famous Racing Circuit du Val de Vienne, if we have a large enough party then track days can be organized but we need a good 6 months notice. It is normally free entry for spectators unless there is a major race event.
A little of the History,
Our hotel was built in 1883 by the brothers Dumas who were Parisien lawyers and great benefactors to the village, it has had many uses in its history, it was last used as a hotel in 1925 after which it was bought by Jean Baptiste Desplobins who used it as a family home. (The telephone number at that time was simply, no 1) During the war it was a low key detention centre housing refugees and POWs, but now it is back to its original intended purpose of welcoming guests to Bussiere Poitevine. Drive through our gates into the enclosed courtyard and you are immediately transformed back in time to a more genteel and relaxed way of life. We have secure indoor parking for about 50 bikes, giving you the peace of mind to relax without worrying about the safety of your pride and joy.
We look forwards to welcoming you to Route 66.
registered in France, Siret no 45085215700012
Hotel Pictures Room Pictures Campsite Harry's Bar Maps Directions Contacts Prices Booking Restaurants Links
Route 66 Hotel, The biker friendly French hotel, campsite and gites dedicated to the motorcycle and motorcyclist. Motorcycle friendly quality hotel facilities and motorcycle friendly camp site created by bikers for bikers. Set in 5 acres of land South of Poiters, in Bussiere Poitevine, approx. 300 miles into France from the channel.
(Biker friendly, motorcycle friendly hotels, gite and campsites in France).